How to pick-up your passport at Shanghai exit-entry
Picking up is straightforward. Usually passport are available for pick-up starting from 9 am on the expected date of pick-up indicated on the pick-up receipt. After you have entered the building, make a right, and go straight. On one side, there are some tables and chairs, a counter that sells some simple food and drinks, and vending machines. On the other side, you will see two sections of booths. The nearest section to you is the payment section. This is where you show the pick-up receipt you got when you submitted your visa and pay the amount as indicated. They accept Alipay and Wechat pay as well. The next section is where you can get your passport back. (If you are from HK, Taiwan or Macau, then you go to the other booths.) You need to trade in the receipt for the passport. You can only pick up your passport from pick-up booth #1. 
I have mapped out the circulation on a plan drawing and on a panorama photo to help guide you.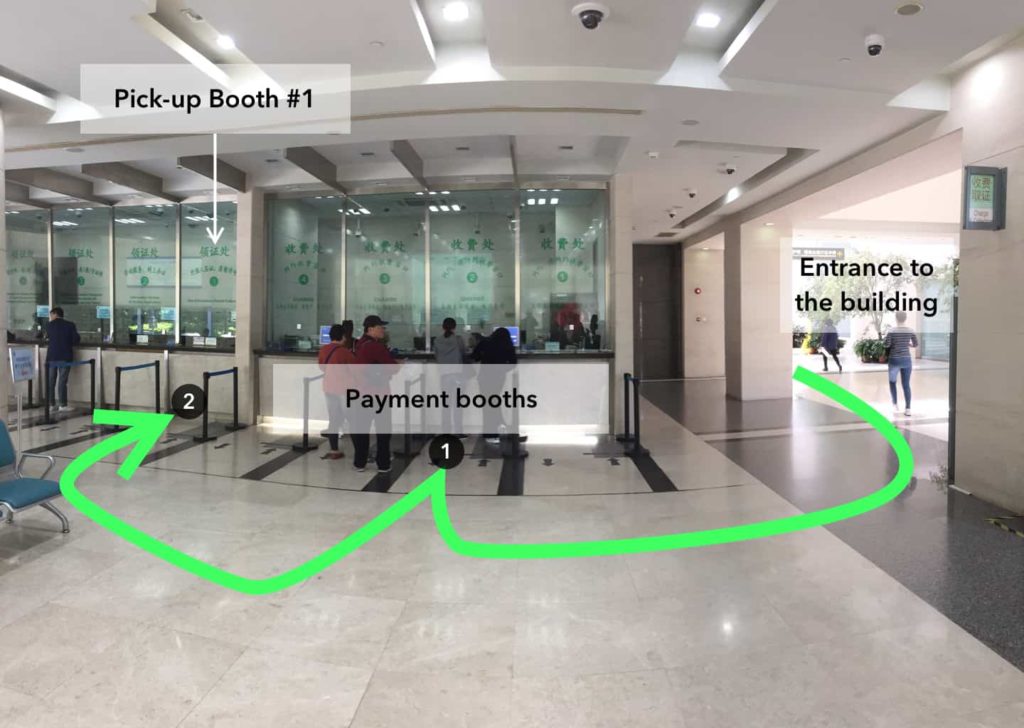 And big congrats on getting your passport back and remember to check the information on the visa page!!
If your passport is not ready, then the staff at pick-up booth #1 will say something along the lines of  "there has been a delay, please go to the 3rd floor and ask one of the enquiry booths." To learn how to navigate the enquiry process, then click here. 
However, you(or your HR) should already know about the delay. A visa officer should have already called your HR or you or both regarding the application. As far as I know, they want to confirm the information regarding the company and your role at the company. If the visa officer called one day before the pick-up date, then I'd recommend you to go a day or two after the expected pick-up date indicated on the pick-up receipt.